Truths and lies about Mandakini and Dawood Ibrahim's love story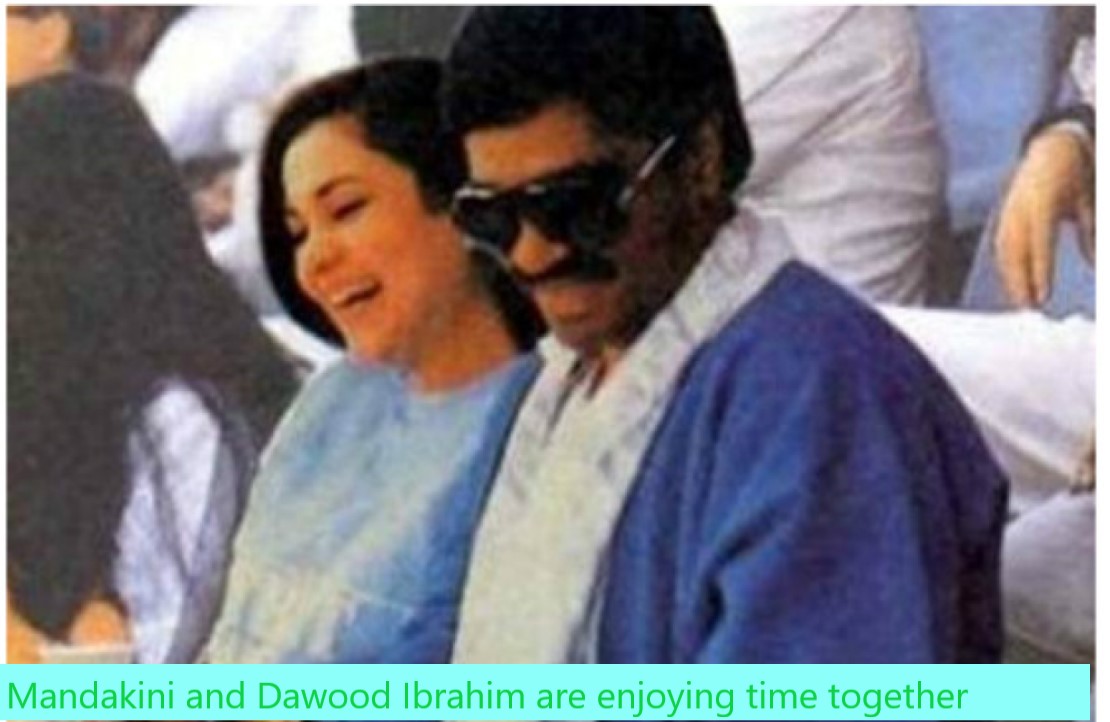 Mandakini had love affairs with Dawood Ibrahim but she kept her far away from his underworld crimes.
In 1993 Bombay blast, Dawood Ibrahim was the prime suspect. Dawood was the most wanted man in India but he managed to escape from India. Just before the incident, Mandakini was seen together with Dawood in different places. After the incident, Mandakini went reportedly underground. She hid in a farmhouse in Banglore. She was questioned by the police but she was proved completely innocent.
I have read different news articles from that time. I am convinced that she did not have anything to do with Dawood Ibrahims terrorist acts. But from many rumors and facts, there is no doubt that Mandakini had affairs with Dawood Ibrahim.
Let me give a brief background of Mandakini. She was born in the Anglo-Indian family. Her real name was Yasmeen Joseph. She always dreamed to be a film star. Despite her beauty with amazing blue eyes and long hair, she was being rejected by film producers.
At that time Raj Kapoor discovered her. Raj Kapoor saw something special in her blue eyes and was impressed. He named her Mandakini. He cast her in the leading role opposite to her Rajiv Kapoor in the movie Ram Teri Ganga Malli in 1985. The movie was a blockbuster and Mandaki was nominated as the best actress by Film fair.
How did Mandakini get involved with Dawood Ibrahim:
Some people wrongly suggested that Dawood Ibrahim helped Mandakini to get the role in Ram Teri Ganga Malli by convincing Raj Kapoor. Dawood Ibrahim had not even met Mandakini before the movie released.
After she got rejected by producers, Ranjit Virk agreed to sign her up for a planned movie Mazloom. Ranjit changed her name to Madhuri. Then Raj Kapoor came in the picture. He took her over and changed her name again as Mandakini. It was the best thing happened to her. Within no time she became a big star. People started calling her, "the bold and beautiful"
Dawood Ibrahim became attracted to Mandakini after he had watched the movie Ram Teri Ganga Malli. He gossiped with his friends that he was overwhelmed to see her bathing with white saree under the waterfalls.
It was not difficult for Dawood to meet and start a relationship with her. Dawood was a very influential person in Bollywood. He used to finance many big-budget movies. He loved to throw lavish parties where Bollywood stars participated. Mandakini became his regular guest.
Mandakini and Dawood started to spend a lot of time together. Later on, Mandakini signed several movies in Bollywood. Whenever she signed a movie, Dawood Ibrahim used to be present with producers. It was obvious that Dawood was financing movies in which Mandakini starred.
Some intimate pictures of Dawood and Mandakini were circulated. They seemed very romantic together. It was not known if they had lived together in relation.
Some lie about the affairs:
There was a conspiracy theory. A Bollywood producer Javed Siddique was shot dead in 1995. There was a widespread rumor that Dawood's people killed him because he refused to cast Mandakini in his film.
There is no evidence that Javed actually rejected Mandakini. It was not proved either that Dawood directed the killings.
There was another rumor that Mandakini was Dawood's mistress and they had a child together. They were about to settle down in Dubai. This was not true. Mandakini never had any child before her marriage with Dr. Kagyur Rinpoche Thakur.
Mandakini was a hardworking and talented woman. She could do good even without the help of Dawood. She did not have the low character to anything for her success.
The truth:
Mandakini and Dawood Ibrahim were emotionally involved. They were spotted in different places together like a couple. Their friends found them happily together. They were spotted in Sharjah cricket stadium. Mandakini visited UAE frequently. She used to be a guest in his house
They had mutual feelings. But those feelings were not so strong that Mandakini took any wrong steps.
Unlike Mamta Kulkarni, Mandakini was never involved in wrongdoing. She did not leave India like Mamta.
Mandakini denied having any relationship with Dawood Ibrahim. That is not true. She had affairs with Dawood.