Days of Bollywood Khans are numbered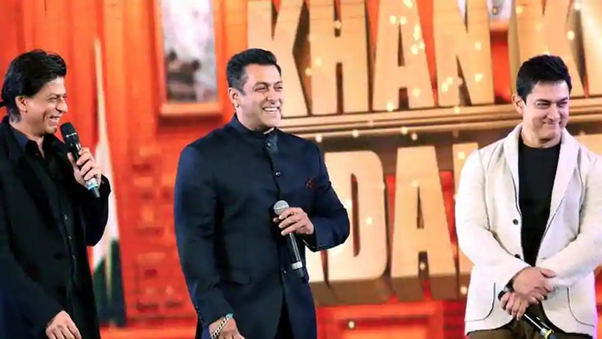 The era of three Khans would be over if they don't do roles that suit their ages. The should follow Amitabh Bachchan.
All three Khans are not in the same situation. In the latest releases of 3 aging superstars — Shah Rukh, Salman Khan and Aamir Khan — the last two have succeeded in the box office. Raees grossed only Rs 128 crore at the box office while Aamir's Dangal and Salman's Sultan mopped up almost 400 crore and 300 crores respectively in the same period.
Shahrukh Khan:
Since Chennai Express, no Shahrukh Khan's movies crossed 175 crores. Shahrukh performed in budget movies. His movies need to make at least 200 crores to see any profit. That does not seem possible.
Shahrukh Khan has been a flop actor for the last some years. He is getting old and smoking too many cigarettes is deteriorating his health. Even the most advanced makeup cannot hide his age.
Instead of choosing the role of a father or big brother he keeps trying to be a hero. Audiences have already rejected him. If he does not change his attitudes, then no other producer but his wife Gouri Khan will cast him.
Amir Khan:
Producers will continue to cast Amir Khan. He is a good actor. He has shown that he can do challenging characters. He has achieved success in PK. His Dangal is a super hit. He can be the central character of a film without being a young hero.
Aamir acted both in Dangal and Secret Superstar without being a romantic hero. Both movies were awesome and box office blockbuster. His experiment in Thugs of Hindostan was not successful.
Salman Khan:
Salman Khan is probably the most successful among 3 Khans. He is not so young but he still does not look old like Shahrukh Khan. He is still presenting super hit films.
He is not showing any signs of slowing down. But still, I doubt if he can continue his present form longer.
He was taking medicines for blood pressure when he was in Jodhpur jail.
Khans should follow Amitabh Bachchan:
A good movie does not have to be only based on a love story. A leading role does not mean a romantic hero.
Amitabh Bachchan is 25 years older than Khans but he is doing central roles constantly.
Life is much more than love and romance. The leading role does not have to be a young college boy. Amir Khan was not a young guy in Dangal but in a leading role.
The themes of Indian movies will change a lot in the coming days. There will be movies based on thrill, adventure, business, conspiracy, and diplomatic relations. There are already movies about stock markets and politics without teenage melodrama.
Three Khans and Akshay Kumar have to do leading roles as Bruce Wills and Silverstone Stallone do. But if they try to compete Varun Dhawan or Ranveer Sing, that will be a major mistake for them. No makeup will help if Khans of Bollywood don't do a role that fits their age